East Tennessee Children's Hospital "CI Board"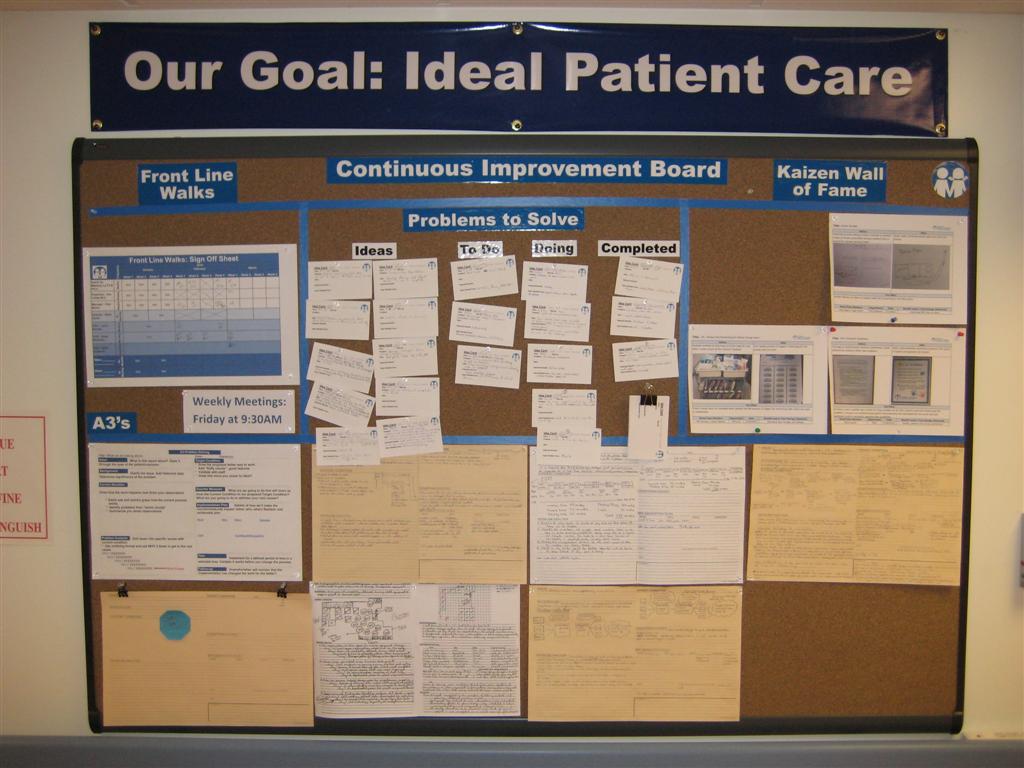 CI Board Explanation
This is the continuous improvement board we use in our PICU to help promote and progress daily kaizen. We meet around it weekly for quick 15 minute meetings to discuss ideas, problem solving progress and to celebrate continuous improvements wins. It is divided into four sections:
1) Front Line Walks: This section is for key stakeholder and management to sign off that they have attended a quick stand up meeting or completed a gemba walk in the department. It is a visual tool to help move our management style to a lean culture of "Go See, Ask Why, Show Respect"
2) Problems to Solve: This is the visual idea board discussed in Mark's book Healthcare Kaizen. Staff members pin their idea cards onto the board. We then discuss these ideas as group including all affected departments and talk about ideas "To Do". In addition, we have started taking the "To Do" ideas cards to the staff lounge and let the frontline staff vote on the next problem "To Do". This has helped staff that cannot attend the meeting have a voice in the process. Once an idea card has been started we then move it to the "Doing" column. Finally when the idea has been implemented we move it the "Complete" column.
3) A3: This section is dedication to the problem solving of the idea cards. We use the A3 problem solving process to help ensure that we are practicing "Second Order" problem solving and not creating more work around or short term fixes. We want to get to the root cause of these problems so that they never occur again.
4) Kaizen Wall of Fame: This area is used to celebrate completed idea cards and A3's. We post these both on the department continuous improvement board and on a bulletin board outside of our cafeteria. Our hope is that we can share these solutions with other departments throughout the hospital and help them implement these improvements.